Wednesday, March 1, 2017.
Today I'm sharing how you can banish your bloat and an opportunity to join me for a live workshop on Sunday, March 12th at 3 p.m. at The Green Yogi in Manhattan Beach.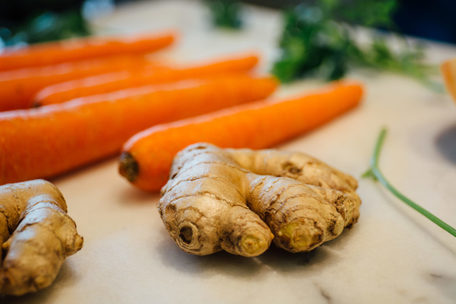 Did you know that eighty percent of your immune system is located in your belly? So if you want to get ride of bloating, PMS, cramps, colds, and headaches we must first start by supporting your digestive system.
I used to be sick all of the time. When I was twenty-eight years old I had a sinus infection that lasted an entire year. I tried everything to get healthy (antibiotics mostly), but it wasn't until I changed my diet that I finally stopped getting sick. It's now almost ten years since my last sinus infection!
Having a healthy digestive system is also crucial for us women and our hormones. Besides stress, the number one reason most women have hormonal imbalances is caused by an unhealthy digestive system. When it's not working properly we are not eliminating hormones and that is what is leaving us feeling bloated, cramped and moody.
One of the very first steps I take with my clients is helping them support their digestive system with the right foods. Having a healthy gut is important whether you want to feel less stressed, get pregnant or have a more easeful transition during menopause. Read more here about what you can do to improve your digestion.
Join me on Sunday, March 12th at 3 p.m at the Green Yogi in Manhattan Beach. I'm having a workshop dedicated to helping your body feel less bloated and more energized. The first part of the workshop is dedicated to supporting your body with nutrition and then you can stay for a special yoga class. The instructor will focus on twists and other yoga poses to help you further detox and decrease bloating. Save your spot today! 
See you soon,