'Tis the season for some holiday treats! Try my healthy hot chocolate recipe this holiday season.
My clients are often surprised when I suggest they add some chocolate to their diet. Chocolate in it's purest form (raw cacao) is actually a superfood. It has tons of iron, magnesium, vitamin C and fiber, plus it has no sugar in it!
It's been known to help support your hormones because of the combination of iron and magnesium, especially the week before your period when these levels drop rapidly. You might even notice this is the time of month you crave more chocolate. Your body is so smart and knows that it needs more iron and magnesium so it craves it in the form of chocolate. Sadly, most of what we are eating doesn't contain real chocolate, just mostly sugar and dairy which only creates more PMS. You can read more in this blog post I wrote on how specific foods can help you throughout the month to support your hormones.
As a bonus, if you need another reason to eat more chocolate, one of the most popular studies ever performed on stress found chocolate to significantly lower cortisol levels in our body which helps to regulate our hormones even more. Which is also very helpful for the holiday season!
I know with the holidays come the treats, so I'm sharing my healthy hot chocolate recipe with you! It just wouldn't feel like the holidays without a hot cup of cocoa. I hope you enjoy!
Healthy Hot Chocolate Recipe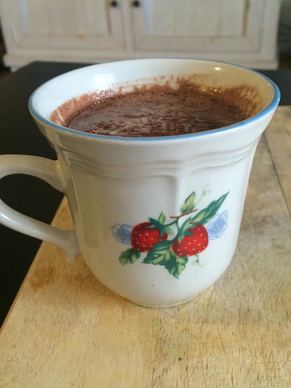 Grocery List
1/4 cup of raw cacao
A dash of cinnamon
1/2 teaspoon of honey
1 and 1/2 cup of almond milk ( please find one without carrageenan in it, I use the Whole Foods brand)
Directions
Place a medium sauce pan on the stove on medium heat
Add 1/4 cup of raw cacao
Add in 1 and 1/2 cup of almond milk
Add in a dash of cinnamon and add in 1/2 teaspoon of honey
Stir until the raw cacao has turned into a liquid
Pour into your favorite mug and enjoy!

Have you gotten your Healthy Holiday Survival Guide yet?