Healthy Thanksgiving Recipes
I love that Katie is all about taking the struggle out of being healthy because I firmly believe being healthy and eating healthy foods doesn't have to be hard–it can actually be really fun AND taste amazing! So today we've gathered some of our favorite holiday meals and created some healthy Thanksgiving recipes for you. 
The holidays can be a very stressful time when it comes to food, especially if you're trying to make healthier choices for yourself and yet you are surrounded by countless pies, appetizers, stuffing, turkey and all those sides.
I want to give you three incredibly delicious yet EASY recipes to make your holiday season a little less stressful and so much brighter. These recipes I've chosen to share are inspired by others **they are not my own** I've just repurposed them and added my own flair, but I figured they would be helpful for all of you to have in one place to make your holidays that much easier. I hope you Enjoy!
Mashed cauliflower with mushroom gravy
Grocery List:
1 large head cauliflower, cut into pieces
4-6 potatoes
4 cloves garlic
1 tsp coconut oil
pinch sea salt + pepper
Directions:
Steam cauliflower, potatoes and garlic until tender, about 10-15 minutes.
Strain and place into a food processor.
Add coconut oil, sea salt and pepper.
Process until smooth.
Mushroom Gravy
Grocery List:
6 cups mushrooms, sliced
1 onion, diced
2 garlic cloves, minced
1/4 cup sun-dried tomatoes
1/4 cup mashed cauliflower
1/4 tsp fresh thyme, rosemary, parsley
dash of sage (it's very strong!)
Directions:
Add some water to a large pan on medium high heat and add onions.
After a few minutes, add the mushrooms, garlic, sun-dried tomatoes and herbs.
Sauté until tender, about 5-7 minutes.
Turn off heat and set aside 2 cups of mushroom mixture.
Add the rest of the mixture, any leftover broth and 1/4 cup mashed cauliflower to a high speed blender of food processor.
Serve on top of mashed cauliflower.
Serves 4
Raw Vegan Pumpkin Pie
Grocery List:
Filling
1 pie pumpkin, peeled and chopped
1 cup pitted dates
3 super ripe Hachiya persimmons
1 tablespoon cinnamon
1 pinky-size piece of ginger
1 tablespoon pumpkin pie spice (cloves, nutmeg etc)
1 inch vanilla bean
Crust
1 cup pitted dates
1 cup pecans (you can use any nut here, so if you prefer almonds or cashews, use those instead)
dash of cinnamon
optional: teaspoon of fresh orange zest for an added layer of flavor
Directions:
First, add the crust ingredients to a food processor and process until it forms a ball.
Press the mixture into the bottom of a pie dish.
Blend the filling ingredients together and spread on top of the crust.
Place in the freezer for 1-2 hours to set.
Slice and enjoy!
Serves 6-8
Raw Vegan Apple Tartlets
Directions:
Filling
2 cups apple, chopped
1 cup apple, finely diced
1 cup pitted dates
1/2 lemon, juiced
1/2 tsp ginger
1 tsp cinnamon
Crust
1/2 cup walnuts (or any nut)
2 cups pitted dates
1/4 tsp cinnamon
1/4 tsp ginger
*optional: teaspoon fresh lemon zest
Directions:
Add crust ingredients to a food processor and process until it forms a ball.
Press the mixture into small ramekins.
Blend or process 2 cups apple and remaining ingredients, except for the diced apples, until well combined.
Stir in 1 cup diced apples.
Spoon filling into ramekins.
Place in the refrigerator until ready to serve. This will allow the filling and crust to firm before eating.
Top with fresh mint leaves before serving.
Serves 6-8
—
If you enjoy making any of these healthy Thanksgiving recipes, I'd love to hear what you think! Tag me on Instagram @happilyhealthyashley, comment here or try this healthy hot chocolate recipe next.
Wishing you and your loved ones a healthy and happy Thanksgiving!
Big Hugs & Health,
Ashley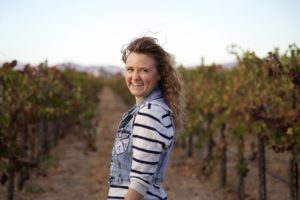 Ashley is a Certified Integrative Nutrition Health Coach, yogi, nature lover and self-proclaimed banana junkie living in Los Angeles. She helps women navigate stress, anxiety and chronic health issues so they can start living the life of purpose, passion, freedom and joy they deeply desire—she believes the life of your dreams IS possible, that your body can heal itself with the right tools and that you were born to live without limits! Learn more about Ashley here.