Happy Healthy Hormones Facebook Live Series
Every Tuesday evenings at 5 p.m. (pst) in our Facebook group
Join me every Tuesday evening at 5 p.m. (pst) in our women's hormonal health facebook group. Each week we will chat about different women's health topics. Next week I'll be sharing how to start seed cycling and how that can help with PMS, irregular periods or just increase your energy levels.  Join our group now! 
---
Healthy Mama Pregnancy 
Sunday, October 29th from 1-3 p.m. at Happy Baby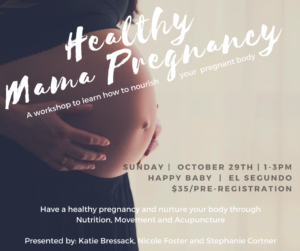 Have a healthy pregnancy through nutrition, movement and acupuncture. Join me, BIRTHFIT South Bay Regional Director Nicole Foster and Acupuncturist Stephanie Cortner to help nurture your body throughout your pregnancy.
You will learn:
What foods you can eat to nourish your body through each trimester
How to satisfy your cravings so you can feel energized though all of your body's changes
How to move functionally, with intention, to support and strengthen your pregnant body and to prepare your body for labor and delivery
How acupuncture can support your pregnancy
$35 Pre-Registration, $40 Drop-In Day Of. RSVP Today.
---
Happy Healthy Hormones Interview Series
Starting Monday, September 18th 
This September I am launching an interview series featuring 21 women's health experts sharing their unique approach to getting rid of PMS, healing PCOS, the right way for cleansing your body, yoga for hormones and SO much more. You can sign up here and get all of this amazing women's health information!
---
Total Body Balance Retreat
September 22-25th, Dana Point California at Monarch Beach Resort 


Our goal is to help you reduce stress for a blissful night's sleep, reset your metabolism so you can feel comfortable and confident in your body, plus stop sugar cravings for good! We are so excited to treat you to a crash course in taking the best care of YOU…something many of us neglect to do. We've extended our 20% off discount, so if you are ready for some yoga, wellness and plenty of relaxation be sure to sign up today.  If you have any questions or would like to chat with me about our retreat, please email me and we can find a time to chat.
---
Beautiful You Event
Sunday, August 20th at 9 a.m. at The Point in El Segundo 


Join me for an amazing morning of movement and empowerment. I'm part of an event at The Point with Athleta called Beautiful Me. There will be a yoga class, a pop fit class and Marina Braff and I are hosting our Body Love workshop at 11:15. It's going to be an epic morning of healthy fun starting at 9! You can see more details and sign up here 
---
Reset Your Metabolism
Saturday, August 19th at 12:30 The Green Yogi, Manhattan Beach, CA


With the proper foods, lifestyle, and yoga poses, you can reset your metabolism and support your body to help you feel nourished, no matter your age! Join me in this free workshop to discover what foods are the best to help reset your metabolism. We'll also go over the best yoga poses to support your metabolism! Spaces are filling up fast, so be sure to grab your spot today!
---
Deconstruct Your Cravings
Saturday, July 15th at 12:30 p.m. The Green Yogi, Manhattan Beach, CA
Do you have sudden urges for sweet treats, or can't stop thinking about bread? We all have cravings during the day, but most of us are unsure what to eat to satisfy and even stop these cravings from happening. I'll be sharing my top 5 wellness hacks to help curb your cravings. This is a free workshop but it will sell out so be sure to grab your spot today. 
---
Healthy Mama To Be: Prepare Your Body For Pregnancy
Sunday, June 11th at 10 a.m. Skypark Physical Therapy, Torrance, CA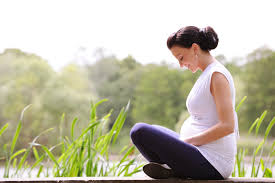 Are you and your partner thinking of starting or growing your family this year? Now is the ideal time to start preparing your body for pregnancy with proper nutrition, acupuncture and movement to create optimal fertility health. Join me, Acupuncturist Stephanie Cortner and South Bay Birthfit Director Nicole Foster to discover what foods boost fertility, how to sync your cycle and support your hormones with acupuncture, food and proper supplements for fertility, and the importance of establishing optimal core function and a movement routine now. Get your tickets here.
---
Super Energy Prescription
Thursday, June 8th at 7 p.m. Mar Vista Art Department, Mar Vista, CA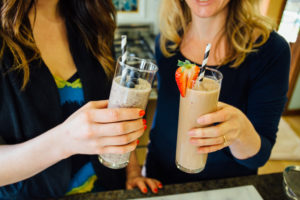 Do you feel like you need a nap, a large cup of coffee, a candy bar, or all three things every day at 3 p.m.? What we eat affects the way we feel, especially our sugar cravings, our energy levels and our hormones. I'll be sharing what you should include in your diet to feel more energized, calm and hormonally balanced in your body. Get your tickets today.
---
More Workshops & Events Coming Soon!